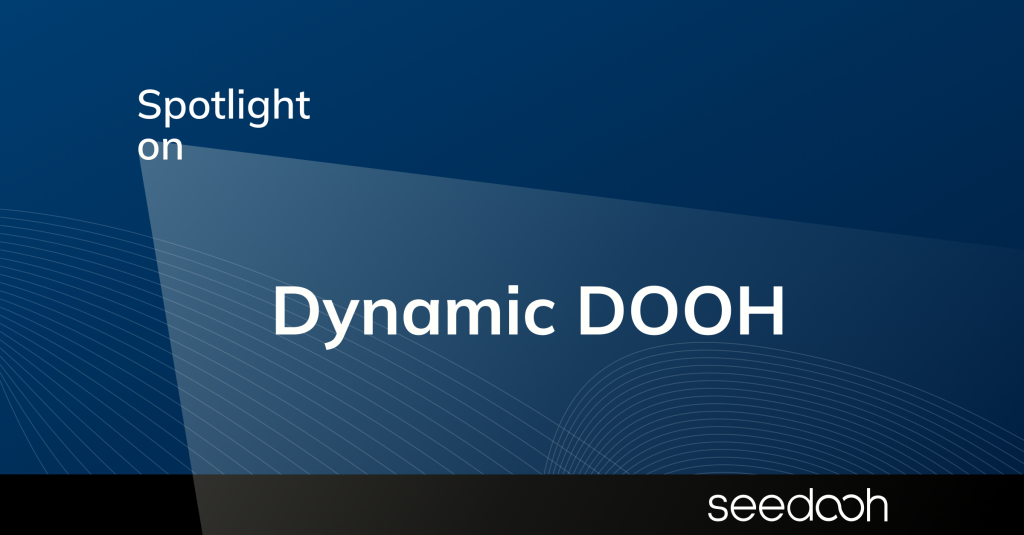 Digital OOH messages can be updated, in real time, automatically. The process is commonly known as Dynamic Delivery, or Dynamic Creative Optimisation (DCO).
NB. This is not the same thing as programmatic DOOH, which is a method of transacting automatically, with improved flexibility and targeting. At this stage, very few, if any, prDOOH campaigns feature Dynamic Delivery – the technical requirements for each 'thing' don't quite fuse together… yet.
Dynamic Delivery (or DCO) has been possible in DOOH for over 10 years. Adoption in Australia and New Zealand has been growing very rapidly in the last 12 months. Here's why:
1. Contextual Relevance:
Messages are more effective, the more relevant they are to the audience (if you think about it, this has always been true for any message, in any 'media', but the term

contextual relevance

was first used broadly in the early days of #digital almost 20 years ago – the first truly dynamic opportunity).

One of the first studies to prove this at scale for OOH was called 'The Dynamic Difference', a collaboration between Posterscope and JCDecaux in c.2015. Numerous studies have been published more recently, increasingly sophisticated, and increasingly conclusive. We have linked some easy to read summaries in the footnotes.

An OOH engagement / effectiveness uplift of 17-38%, just by changing the message, is an opportunity difficult to ignore.
2. Delivery Efficiency:
The flexibility of DOOH messaging enables Brands to change creative as often as they like (generally) – and many campaigns feature messages that are different by daypart, by day, by location, by format, by environment etc.

Without an automated Dynamic Delivery solution,

the material production, approval, instruction and trafficking of these types of campaigns requires a lot of human resource – and cost – and increases the chance of human error. Especially if the campaign has many formats and suppliers.
3. DOOH Interest:
Now that DOOH is attracting more of the total media budget, Brands are asking more questions, and are more interested in OOH opportunities. They want to understand the contribution OOH can make to their omnichannel activity – and how to improve this contribution.

Creative agencies, media agencies, digital agencies and in-housing advertisers are looking for answers – and adapting to the fast evolving maturity of DOOH.

The focus of these smart people is having a significant impact on the rate of adoption for DCO.
So how does it work?
Put simply, any number of pre-approved creative versions can be 'ready to go' for any DOOH campaign where the media is booked. The message can also include a dynamic element that updates in real time, based on live data.

If it is just a tagline (eg 'coming soon' to 'now showing'), or a price, or an image / product that is changing, based on known times / dates / locations, then the automated dynamic delivery can be pre-programmed, or 'scheduled'.

If you want to link to an external 'live' variable, such as time, weather, pollen counts, traffic speed, audience metrics, etc – then this can be connected (where available) and become the trigger that updates the message 'dynamically' in relation to the live 'context' factors at each sign location.
How do I activate?
Most leading DOOH publishers have this capability internally now.

Some media agencies too, and a few creative agencies.

There are also technology businesses who offer an agnostic solution.
What to watch out for:
There is an associated cost premium of course, which needs to be weighed against the benefits in both effectiveness and efficiency, in each case. Increasingly, this cost benefit analysis is becoming clearer, technology is improving, and costs are coming down. Some solutions will fare better than others, for specific use cases.

Like any connected, digital solution, dynamic DOOH message updates require an internet connection, and a stable environment. This is variable in the (very) real world of OOH, where dropouts are fairly common. (Most DOOH systems will continue playing the cached creative, or a fallback creative, until the connection is re-established and new instructions received).

Some – but not many – solutions are able to report in detail on delivery against expectations. Where this is offered, it is 'self-reported' by the system operator(s), and ordinarily provided 'post-campaign'.
What's new?
Seedooh can now verify every play, of every DOOH message –

whether traditionally scheduled, or dynamically delivered – and is the only independent, third party verifier who can achieve this.

Seedooh standardises the data, across multiple publishers, even if they are using different systems – so has a real-time view of every play event in the real world, all in the same platform.

Seedooh's Campaign Support service monitors the delivery live, during the campaign and notifies all parties, as soon as an issue is detected – so that there is the best possible chance of rectifying it quickly, and making the most of the booked activity period.

Seedooh data can also be accessed at scale, during and after the campaign, for analysis and insight, including for attribution / modeling, where other relevant data sets are available.
If you're interested in learning more about Dynamic Delivery, best-practice third-party verification, or campaign measurement in Public Space Media, contact us here, for an independent opinion, tailored to your (almost certainly) unique requirements.
Footnotes:
2020 | Clear Channel, JCDecaux & Posterscope | The Moments of Truth | +17% Campaign Effectiveness Uplift
2021 | QMS & Neuro Insight | 38% lift in Impact
2022 | Awarion & AdScience | 96% Agree that contextually relevant ads are more eye-catching