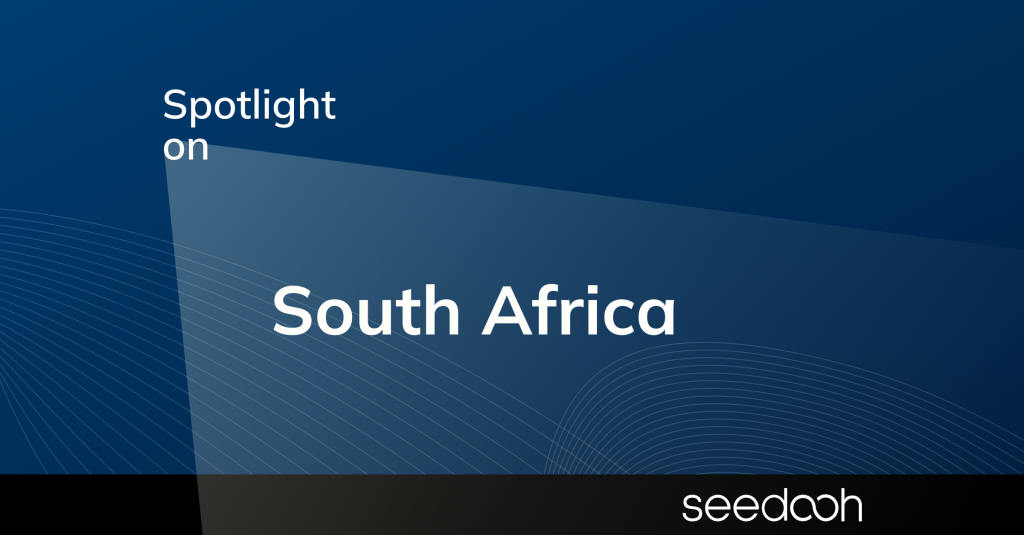 Insights from the February 2023 nationwide OOH audit, by Outdoor Auditors SA
Guest post, from author: Erik Warburg – Director, Outdoor Auditors, SA
This article was first published in the DOOH.co.za newsletter and blog, on 24th April 2023 – the theme of the issue was "OOH Measurement & Reporting: Counting what matters"
1. Occupancy rates for static OOH continue to improve:
Occupancy rates for static billboards in SA have improved consistently since the nadir or lockdown (Oct 2020). This is particularly encouraging, as this excludes digital OOH, which we know is expanding quickly.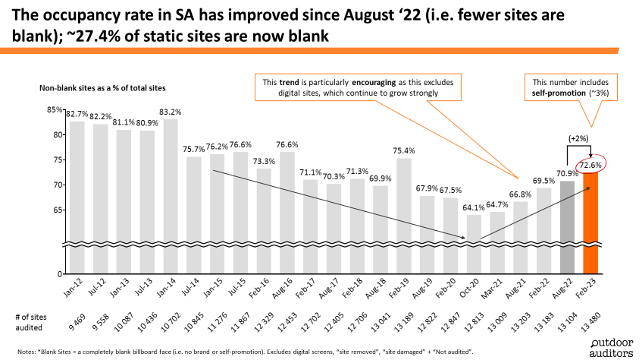 Figure 1: Occupancy rates over time in SA. Source: State of OOH Report
2. Loadshedding is severely impacting delivery on digital OOH
During our Feb 2023 audit, ~25% of roadside digital screens were not working when we audited them. This is very likely due to loadshedding. As an industry, we have to start measuring this under-performance of DOOH accurately so that spend and contracts can be adjusted accordingly. If this doesn't happen, spend will leave the industry.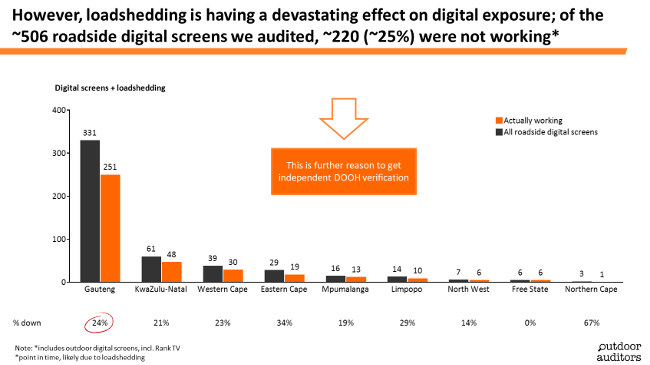 Figure 2: The effects of load-shedding on roadside digital 
3. Fast food is embracing OOH (and is using it well)
The fast food / QSR category is dominating SA's OOH market in terms of # of sites used – using almost twice as many sites as the next biggest category (retail banking). This category, led by KFC (SA's biggest OOH user), has steadily grown it's reliance on OOH over the past few years.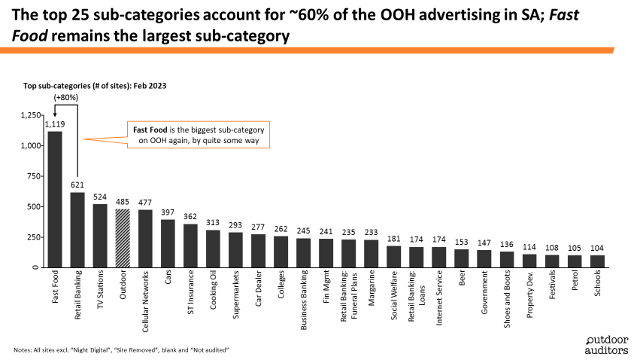 Figure 3: The biggest  OOH categories in SA
Not only do the QSR brands use a lot of OOH, but they are also using it well; formats are well chosen, digital is used well and locations are often carefully considered. Artwork is also well designed for the medium: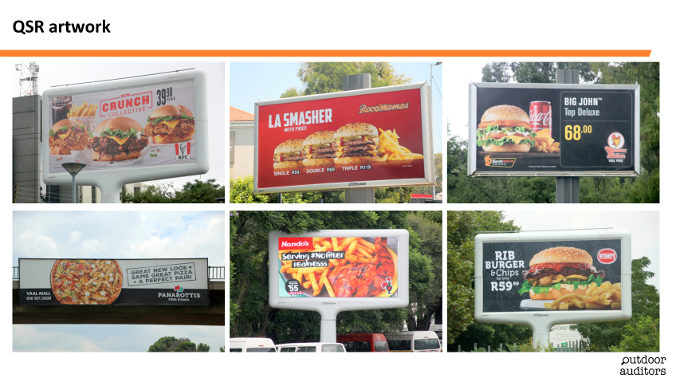 Figure 4: Artwork examples from the QSR category
DOOH verification in SA
The need for DOOH verification in SA
Digital Out of Home (DOOH) has grown massively over the past few years. Over the past 4 years the number of roadside digital screens in SA has more than doubled:

Figure 5: the number of roadside digital screens in South Africa over time
This growth in digital is very exciting for the South African OOH industry, as it has the potential to significantly grow the industry. This is particularly attractive as much of this spend would likely come from other media types (e.g. budgets from digital, TV, mobile). Our own forecasts estimate that DOOH is likely to contribute ~40% of all OOH spend within the next 5 years: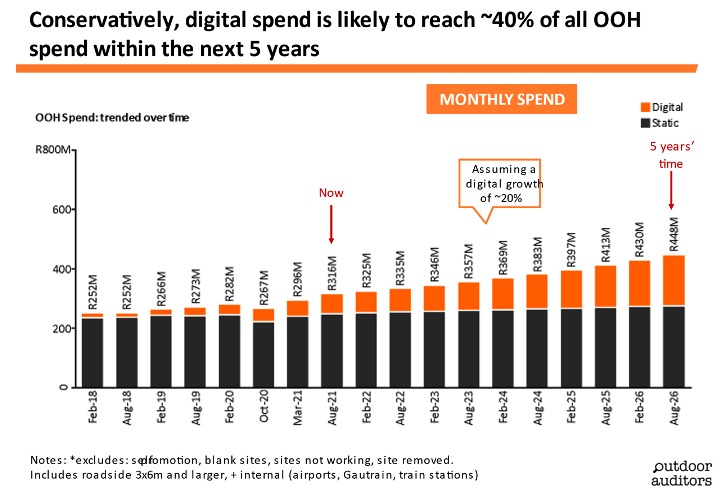 Figure 6: Forecast share of DOOH spend vs static in SA
We are currently riding a wave of demand for digital OOH; the supply of digital assets is increasing, the demand for digital assets is growing quickly, many brands are trying out digital for the first time, and programmatic buying is adding additional demand to the DOOH network.
At Outdoor Auditors, we believe that digitisation offers a powerful opportunity for both media owners and advertisers to make the most of OOH.
We also believe that reporting  is an area of critical importance that needs rapid improvement, to help sustain the rapid growth of investment.
We know from our field audits, and from discussions with buyers, that DOOH reporting standards can be very variable. In many cases, it is just not possible for advertisers to be confident that they get what they paid for. 
So, what can go wrong? 
If advertisers lose confidence in DOOH, this extra spend will quickly migrate to other media types. Already there are advertisers losing confidence in DOOH, because they feel that they are not getting what they are paying for. This is happening for a number of different reasons (these are some of the bigger problems, but not all of them):
Publishers are

over-stuffing loops

(playing more ads per loop than agreed upon)

Load-shedding

is resulting in a lot of down-time

Publishers are

over-selling

in-demand digital screens, and using quieter screens to make up the flighting numbers
Part of the problem is that it is currently difficult for advertisers to get an independent, holistic view of their entire DOOH holding. In many cases, reports are supplied piecemeal, after the campaign period, and in different formats – or not supplied at all.
This challenge is not unique to South Africa; it is a global shortcoming of OOH. This is now being acknowledged in key markets such as the UK, following a 6 year period of focus in Australia – the first market to address the requirement for standardised, Third Party Verified Proof of Play data at scale..
What is third-party verification?
Third-party verification (TPV or 3PV) is already being used in many industries. It provides the service of confidence, trust and transparency by answering the simple question "Did I get what I paid for"?
The rise in demand for TPV services in OOH is a sign that advertisers have reached a point of expectation of proof of delivery – and prefer that proof to be provided by a third party, rather than self-reported by the OOH supplier.
As TPV becomes more widely available, advertisers will begin to view this service as 'must' rather than 'nice to' have – a need rather than a preference. While this scale of necessity may not reach a level of sector regulation in South Africa this year, leading Publishers here are already embracing the requirement for transparency, as they have in Australia and the UK.
What are the benefits of third-party verification for DOOH?
On a high-level, TPV brings confidence, trust and transparency to DOOH. As advertisers insist upon third-party verification of their digital spend, publishers ensure that advertisers get what they paid for.
On a more practical level, when TPV is done well, it saves advertisers time, effort, and resources; all monitoring and reporting is done independently, one common reporting tool is used across all publishers and calculating quantifiable non-delivery is made simple. Data is available in real time, meaning that any issues can be quickly identified and rectified timeously, during the campaign period.
Seedooh and Outdoor Auditors SA
Seedooh launched the world's first scalable Independent Verification Platform for OOH in 2017 in Australia, and is now a global leader in DOOH verification, operating in multiple markets.
Seedooh utilizes backend system integrations, to autonomously and independently query and report on network source data. This is a recognised global best-practice assurance methodology called system event verification. Source data includes both the booking context (what was scheduled, where) and the event data verifying each time an ad is displayed, or a classic panel is installed.
Direct connections to source data events within secure systems (and appropriate controls aligned to a global data assurance standard), ensure Seedooh delivers the most accurate, scalable and secure method for performing verification in OOH. Importantly, this methodology avoids adding extra manual steps into the already complex message delivery process required to operate extensive networks in public spaces.
Seedooh has partnered with Outdoor Auditors to make this service available to the African market.
Outdoor Auditors have been SA's leading independent source of audited OOH data since 2009 working with clients to provide much-needed competitive and contextual OOH data. 
With access to live DOOH data via the Seedooh Platform, Outdoor Auditors can now provide advertisers and agencies with in-flight monitoring of delivery – and campaign support, to identify and help rectify any issues promptly.
Progress to date
Outdoor Auditors and Seedooh can verify delivery of ~50% of DOOH investment in South Africa on demand, so far – and this coverage is growing rapidly as advertiser expectations are made clear.
This includes all roadside DOOH inventory for market leader Primedia Outdoor, who have taken a very progressive position on transparency. 
According to Jorja Wilkins, Marketing Executive at Primedia Outdoor:
 "Independent, third-party verification is essential for transparency and standardisation in the highly competitive out of home advertising landscape in South Africa. By ensuring that campaigns are accurately reported across all media owners, advertisers can have confidence in the effectiveness of their campaigns, while also promoting fair competition and accountability within the industry." 
New levels of accountability are being welcomed by media buyers, too.
Ivor Chalmers, head of OOH for OMG,  said: "Third party independent flighting verification is vital if we are to move forward with DOOH and pDOOH especially in these uncertain times where we see an increase in site vandalism, load shedding, cable and panel theft".
About the author: Erik Warberg, Director, Outdoor Auditors SA
Erik graduated from the University of Cape Town with a B.Sc. in Mathematics, followed by an AdMac course at the Red & Yellow School of Advertising. 
After working as a Media Planner and Strategist at DraftFCB and then taking on the role of MD at Posterscope Cape Town, he completed his MBA at the UCT Graduate School of Business, which led to his appointment as a Management Consultant at Bain and Company.
In 2009, Erik founded Outdoors Auditors in partnership with his brother Rene Warburg.
With over 20 years' experience in the media industry, Erik is passionate about improving the efficiency of the OOH industry, effectively linking supply and demand, and reducing wasted spend.